Development: When writer/director Tedi Sarafian was looking for inspiration for a supernatural thriller, Aaron Heck brought him to the magestic northern California winery, Korbel Champagne Cellars. Well versed in the real life ghost stories surrounding Korbel, Aaron shared the hair-raising history that would become the basis for the film Altergeist. By the end of that first short trip, Tedi had the skeleton of the story hashed out. Over the course of a few short months, the screenplay took shape and pre-production commenced.
Prep: The entirety of pre-production was run out of HeckArt Studios main office. With enough space for production staff, department heads and keys, and even casting, we created an environment of constant creation and feedback, allowing for a compressed pre-production schedule without losing actual planning time. From set blueprints and complete storyboards, to wardrobe fittings and camera tests, our in-house approach increased productivity immeasurably.
ALTERGEIST on IMDB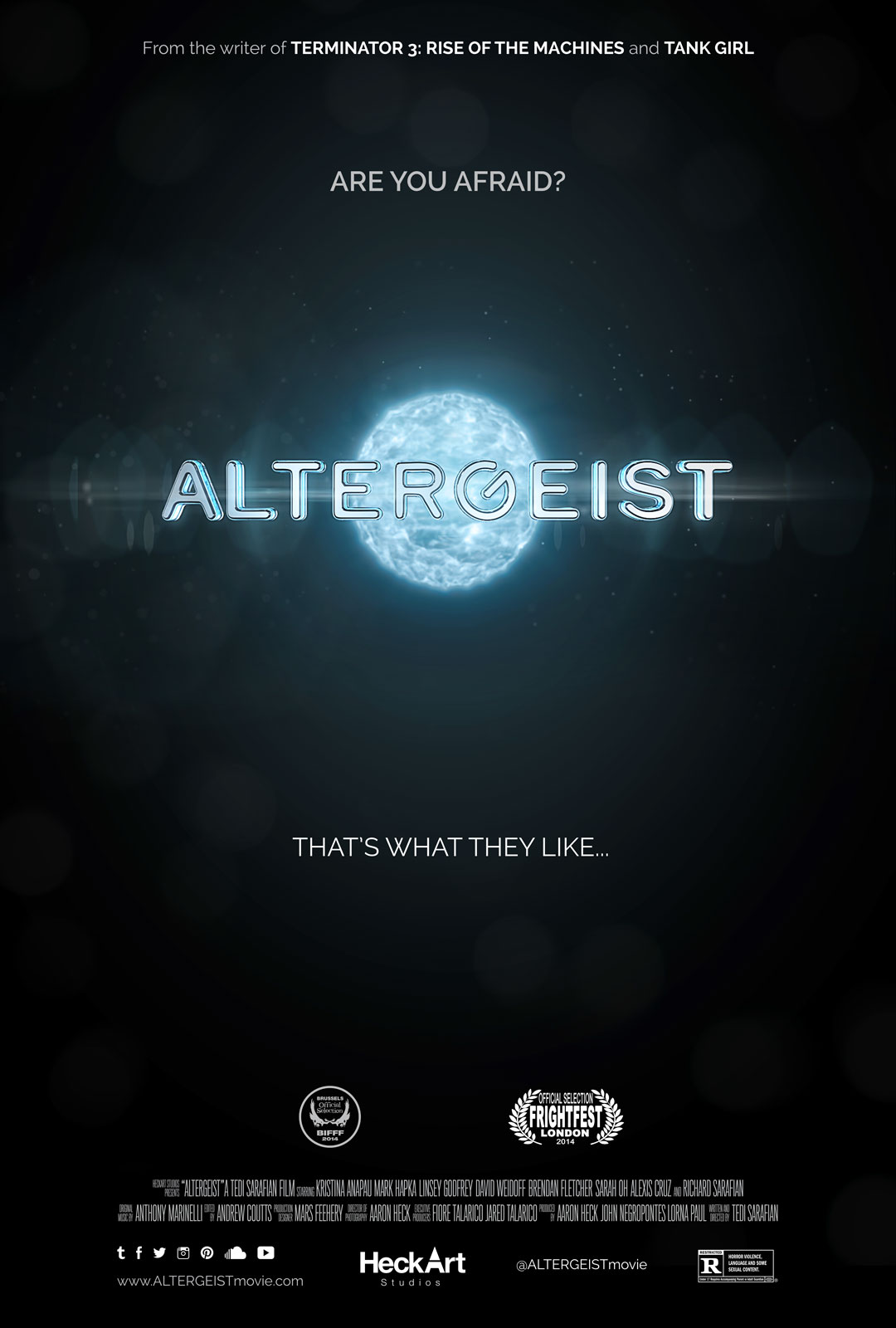 Production: Shooting almost entirely on location, Aaron Heck leveraged his relationship with Korbel Champagne Cellars to provide an authentic backdrop for the chilling story devised by Tedi Sarafian. Providing the bulk of the production equipment, including 2 brand new Arri Alexa digital cinema cameras and one of the first Mole-Richardson 24,000 watt HMI lights to roll off the line, HeckArt Studios brought the tools and skilled technicians normally reserved for much larger films to bear on Altergeist. The result was a film that looked much larger and much more expensive than it was, adding production value while keeping production costs in check.
Post-Production: With state of the art post facilities, HeckArt Studios kept nearly all post-production activities completely in-house from Editorial and VFX through to the creation of final deliverables. Firmly believing that movies are not made in a vaccuum, we organized multiple test screenings, taking audience feedback to craft the most compelling story possible. When warranted, we went back to set and picked up additional material, which blended seamlessly into the footage from principal photography due to diligent attention to detail and extensive notes.
Distribution and Marketing: We chose Altergeist to pioneer HeckArt Studios distribution arm, taking this final step into our own hands as well. Putting years of experience in brand development and marketing products to work, we developed key art and edited trailers and behind the scenes content in-house. With promotional materials in hand, we were able to secure agreements with DIRECTV and a number of exhibitors to showcase Altergeist. After successful festival screenings in Brussels and London, Altergeist will debut in the USA on October 9th on DIRECTV's VOD platform.
As long-buried memories and deep-seated fears bubble to the surface, six paranormal investigators are terrified to learn that even ghosts are afraid of the sinister presence that has plagued America's most haunted winery for generations…
Are you Afraid?...That's what They like...